Alejandra Guzman, Calle 13, Aterciopelados and Maldita Vecindad in concert!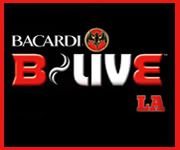 BACARDI B-Live is a collaboration of musical talent and performances. It has taken place in over 25 countries, including the U.K., Spain, Italy, New Zealand, Brazil and Mexico.
This time around, the B-LIVE makes it to Los Angeles on Saturday, November 10th. featuring Alejandra Guzman, Calle 13, Maldita Vecindad, and Aterciopelados. A never before seen collection of artists will collaborate for the first time in a special performance at historic Olvera Street in Los Angeles, California.
It will be an exciting all-star lineup with international Latin appeal: "The Queen of Spanish Rock," Alejandra Guzman from Mexico; three time Latin Grammy award winner Calle 13 from Puerto Rico; Latin rockers Maldita Vecindad from Mexico, and Colombia's most original rock band, Aterciopelados.
BacardiI B-LIVE will benefit the city of Los Angeles by donating $25,000 to the National Hispanic Foundation for the Arts. The National Hispanic Foundation for the Arts (NHFA) was founded in 1997 by actors Jimmy Smits, Sonia Braga, Esai Morales, and Washington, D.C. Attorney Felix Sanchez.
"We are delighted to have Bacardi USA's support to promote Latinos both in front of and behind the camera," said Jimmy Smits. "We have worked tirelessly over the last 10 years to elevate the issue of Latino under-representation in television and film in the national consciousness."